Our history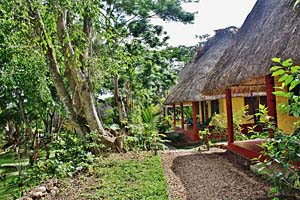 Our history Belize family travel, Belize family vacations at a locally owned Belize jungle resort
Our family consists of 12 members: Victor and Teresa are parents of 10 children, Jeronie, Everald, Fernando, Omar, Emelita, Ismelda, Julie, Eric, Carolita and Andy. The Tut family started out as farmers. We spent our days growing and transporting fruits and vegetables by canoe to the town market in San Ignacio and watermelons by truck to Belize City. One day the family dug a pond on the premises and the next day, they found it filled with crystal–clear water. Hence the farm became known as Crystal Farm.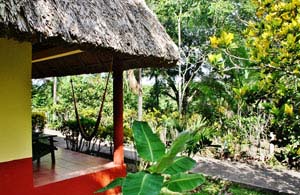 In 1986 an inquiry about lodgings launched the Tuts into visualizing a unique family–style resort. Victor, who was skilled in the construction of traditional thatched–roof buildings, immediately recognized the potential in this non–conventional market and began building cabanas on the family land. When the resort was opened in 1992, "paradise" replaced "farm" in our name to give people an idea of the beauty, tranquility and peacefulness of the area. Hence, Crystal Paradise Resort was born.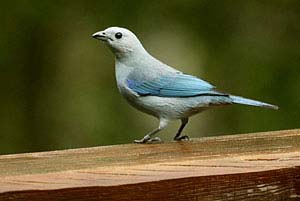 Crystal Paradise Resort in Belize is one of the few Belizean owned and operated Belize eco lodge and jungle resorts in western Belize. Our family works together as a team to offer the best hospitality in Belize and our guests will always have a memorable stay with us.
The sons, who are avid Belize birders and nature lovers, maintain the beautiful grounds, operate the Belize tour company Paradise Expeditions while serving as your Belize guides on a variety of Belize tours including hiking, Belize cave tubing, horseback riding, kayaking and birding in Belize.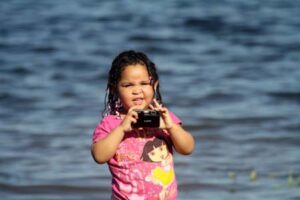 Teresa is now semi retired while the daughters and family such as cousins and other members from the nearby village keep the Belize guest rooms clean and comfortable and also cook up the best in traditional Belizean and International cuisine.
The little girl to the right Jeronies daughter the oldest son of the Tut family. She is really into nature and is always pleased to point out the toucan or the  Blue crowned Motmot to our guests and  she loves to take pictures and talk about the birds she already learnt from spending time with her Daddy.
So come and join the Tut family, they will be sure to show you a great time. Bring your family and friends too. Its all about your Belize vacation
Belize resorts, Belize jungle lodges and  family travel