Belize River Trips
Belizean owned and operated, home-cooked meals
Belize river trips, Belize Canoeing Kayaking in Belize
Macal River Canoeing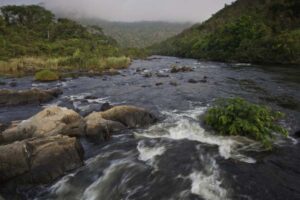 We enter the river 4 1/2 miles upstream from Crystal Paradise and float down stream back to the lodge. An easy float down one of the most sparkling clean rivers in Belize. Take along a guide or set out on your own. Just remember to take it slow and enjoy the view. Canoeing the Macal River is a memorable experience and highly recommended. The shoreline is covered with a lush tree canopy, which is the natural habitat for tropical birds,  Belize butterflies and iguanas.
There are several stops you can make along the way. About 1 mile down river from our drop-off point is the Belize Botanical
Gardens at DuPlooy's. Spend some time wandering through the beautiful gardens and exploring the rich variety of plants. Another stop while canoeing is Chaa Creek. This Belize resort is home to the Blue Morpho Butterfly Farm and the Natural History Center, as well as the Ix Chel Medicine Trail. Both places serve lunch and drinks. In addition, there are several other small bars and restaurants that advertise their locations along the water edge.
Macal River Canoeing with a Bird Guide: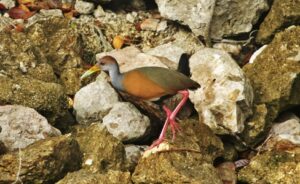 While canoeing, you can see an array of birds that frequent the river banks and iguanas sunning them-selves on the rocks. Some of these Belize birds include Black Phoebe, Social Flycatcher, kingfishers, Mangrove Swallows, and occasionally the Gray Necked Wood Rails.
Other Canoeing – You can canoe down from Crystal Paradise to the town of San Ignacio 3 ½ miles away enjoying the tranquility and peacefulness. You can try out one of the local restaurants in town or simply walk the town and meet with the friendly Belizean people.
Feel free to Contact Us for more information