Belize Birding Lodges, Birding in Belize
Belizean owned and operated, home-cooked meals
Belize birding Lodges, Belize birds, Birding in Belize. There are many Jungle lodges in Belize. Some of them are more suitable for birding than others.
Crystal Paradise has  great  landscape and is surrounded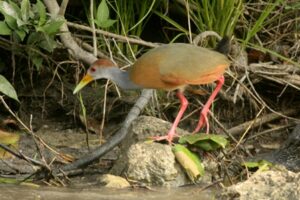 with many fruit trees and berries that the birds like making it a great habitat for our Belize birds.  There are a number of species that have been recorded at Crystal Paradise. You do not  have to be a birder to appreciate these  colourful feathered creatures. Come join us in many of our Belize birding trips. Or simply sit back and enjoy listening and watching birds such as the Collared Aracari, Blue crowned Mot mot and much more.
Come Birding in Belize…
Sites dedicated to Birding include
Where do you want to go birding today?
http://camacdonald.com/birding/cenbelize.htm#Eco-Lodges
BIRDING TOUR COMPANIES:
There are a few Belize tour companies specializing in Belize Birding trips.
Belize birding lodges, Belize hotels, Belize resorts, Birding tours in Belize.  Places to stay while Birding in Belize