Belize Birding Site
Belizean owned and operated, home-cooked meals
Belize birding tours, Places to go Birding in Belize.  Laguna Aguacate, Crooked tree, Inland Blue Hole, Cockscomb Basin,
Spanish Lookout and Laguna Aguacate 
A 45-minute drive north of Crystal Paradise through rolling green hills brings you to Spanish Lookout, a modern-day Mennonite settlement reminiscent of Pennsylvania farmlands. Spanish Lookout is accessed by a beautiful drive through rolling hills. Several different habitats in the area makes it a favorable birding destination. The area consists of savannah, open farmland, and subtropical forest around the lake.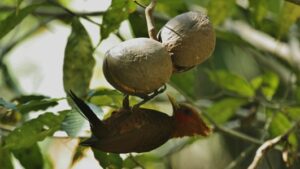 In the open land and pastures it is easy to find Vermillion Flycatchers, Fork-tailed Flycatchers, Yellow-rumped Warblers, White-Tailed Kites and Hawks, Laughing Falcons, Meadowlarks, Swallows, Herons, Jabiru storks just to name a few. Aguacate Lagoon Reserve is located about 20 minutes beyond the community, and provides a birdwatcher's paradise. In the forest around the lake common sighting may include Jacamars, Trogons, Puff-birds, Crested Guans and Great Curassows. Other birds may include Black-bellied Whistling Ducks, Night Herons, rails and Crakes. We will stop at the Mennonites Western dairies for some homemade ice cream.  Join us on one of our many Belize birding tours
What to Bring: binoculars, camera and money for lunch as we stop at a buffet restaurant within the Belize Mennonite community.
Laguna Aguacate and Spanish Lookout (Half Day)
Birding and Nature Tour, We bring a Swarovski scope
Includes:bird guide and transportation
         Departs: 6:30 a.m
       Driving time: 1hr
 Fitness:

 easy
Inland Blue Hole National Park & St. Herman's Cave
Birding in Belize at the inland Hole National Park one of  the many Belize's National park managed by the Belize Audubon Society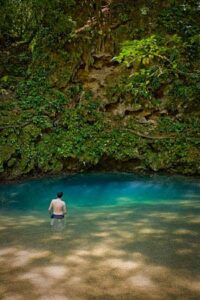 Blue Hole National Park is a 575-acre protected area located along the southern Highway near Belize's capital city of Belmopan. The park boasts many outstanding features, including Blue Hole, a magnificent sink hole and its surrounding cave system. The Blue Hole is actually a short but deep stretch of underground rivers whose course is revealed by collapse of a limestone cavern. It flows on the surface for about 55 yards before disappearing beneath another rock face. This is a wonderful place for bird watching and swimming in Belize.
There are a number of trails to hike within the park. Some of the unusual birds known to this area include White Hawk, Spotted-Wood Quail, Crested Guans, Lovely Cotinga, Keel-Billed Toucans, Red-Legged Honey Creepers, Ornage Billed Sparrows Green- backed Sparrows, Olive-backed Sparrows, Nightingale Wrens, White- collared Manakins, Great Antshrikes,Slaty-Tailed Trogons just to name a few. We can easily spend half to a full day here end the trip with a refreshing dip in the pools. A number of stairs descend to this small spring. Its cool, turquoise waters, surrounded by dense forest, overhung with mosses, vines and ferns are the perfect spot for a cool and relaxing dip.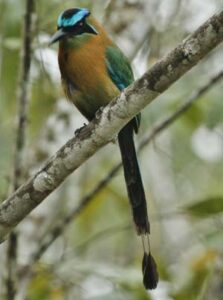 St. Herman's Cave is part of Blue Hole National Park. It is a short hike from the parking area/visitor center to the cave entrance. Upon entering, visitors go down steps that were originally cut by the Maya. Once inside, people can clamber over rocks and splash through the water, while admiring stunning cave formations created over a millennium ago. After exploring the cave, there is the option to hike a 2 ½ mile interpretive trail with observations that leads over the cave. For Belize birding tours we recommend early morning departures.
What to Bring: binoculars, camera, swim wear to cool off after some great birding and money for lunch as we can stop at a restaurant in Belmopan. Another option is to  pack a lunch from Crystal Paradise.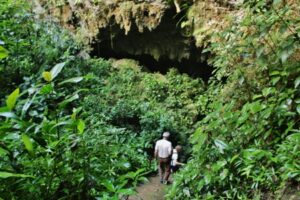 Blue Hole and St Herman's Cave (Half Day)
Belize birding and Nature Tour: We bring along a swarovski scope
Includes: bird guide and transportation.
JAGUAR RESERVE  (Cockscomb Basin)
The cockscomb wildlife sanctuary  is located in southern Belize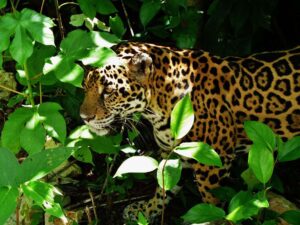 in the Stann Creek district and is  home to the largest spotted cat in the word the Jaguar.  The forest within the reserve  consists of  tropical moist forest. The area is generally humid due to the amount of rainfall and very little wind.  There is an extensive trail systems at Cockscomb and trail leading up to Victoria Peak the second tallest mountain in Belize surpassed by Doyles Delight which is  further south of Belize. In the early 1980 concerned for the jaguars was raised by a number of farmers in the area that saw Jaguars in their orchards. This area of Belize is mostly know for the cultivation of citrus.
Assistant Director of the international Division of the New York Zoological , ran across references to jaguars in Belize hunting Magazine. He was in contact with  a lady Dora Weyes which suggested to ask if Belize Audubon Society  would be interest in a study of the Jaguars in Belize. A man by the name of Alan Rabinowitz who was a graduate student at the time was asked to determine the population of Jaguars in Belize.
He conducted ecological studies in the area from 1982 to 84. It was then observed that the highest density of Jaguar ever recorded found here.  It was initially declared a forest reserve in 1984 and no hunting signs were places at access points to protect the Jaguar and other wildlife.   In 1988 to wardens were hired to watch this Belize Reserve. The Jaguar Reserve is being managed by the Belize Audubon Society.
Hundred species of birds, plants, exotic flowers, Mammals and other living things have been recorded here.